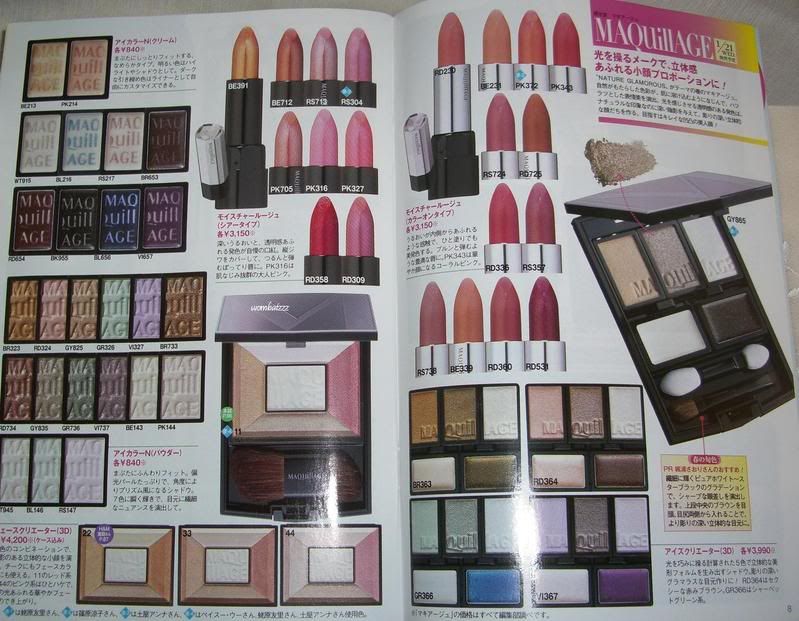 Biteki is one of the top Japanese beauty magazine much like Voce and Maquia (comparable to what Allure is in the US I suppose). Every quarter they release a special pamphlet which features almost EVERY single brand's seasonal collection (not just usual boring promo pictures but literally every item of the actual product), so you can see lipstick shades in actual colors and all the eyeshadows or even eyeliners/ eyebrow pencils all under professional photos!
Along with the pics you also have with a quick description of the product (e.g. this eyeshadow is meant to feature a sheer iridescent finish, or this lipstick line is a pigmented creamy finish), and whether product is Limited Edition (yes the word that makes all women crazy.. =P ) in addition to Japanese RRP prices and color codes/ full names (unfortunately not with English product names too- but I can always figure it out in the end by comparing against official website). Best of all is the main magazine body often uses those products on models, and in this little pamphlet it also notes like 'please refer to page 90 of the main magazine' where a product in the pamphlet featured in spring collection was applied to a model. How neat is that! so you can see great swatch pics on the model. (of course there's some photoshopping but I find the colors quite accurate).
Here are some extracts from magazine on things I want to get, there are so any pages in this supplment, I only took a few pics of the ones I'm interested in, respecting the copyright of the magazine, I highly recommend purchasing the magazine if you could (though this magazine RRP is 550Yen in Japan yet I can only find it for $19AUD in Australia, hello! what a ridiculous markup!)
(Japanese brands below can be purchased from http://www.adambeauty.com/ (cheaper but less choices and slower updates) or http://www.ichibankao.com/ (more expensive but quicker updates)). Not affiliated with either sites.
Maquillage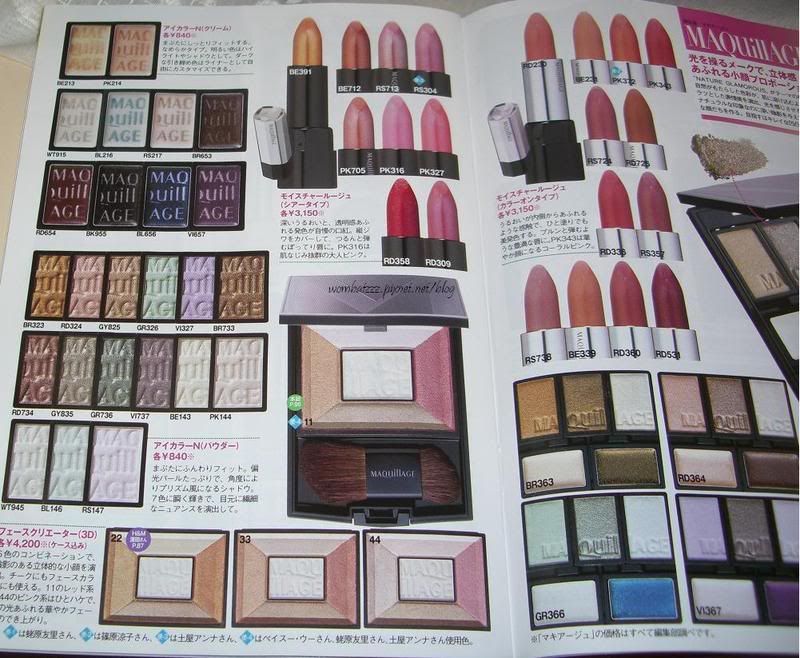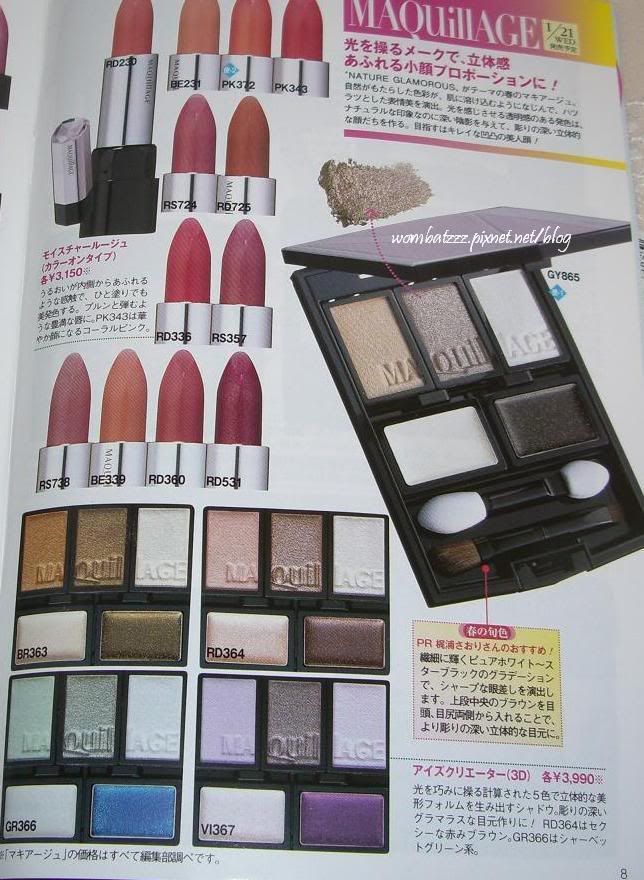 Suqqu is a Japan exclusive so far I believe (and also UK as a reader pointed out! thanks!), it's quite pricey...
Jill Stuart-
The same pink looks...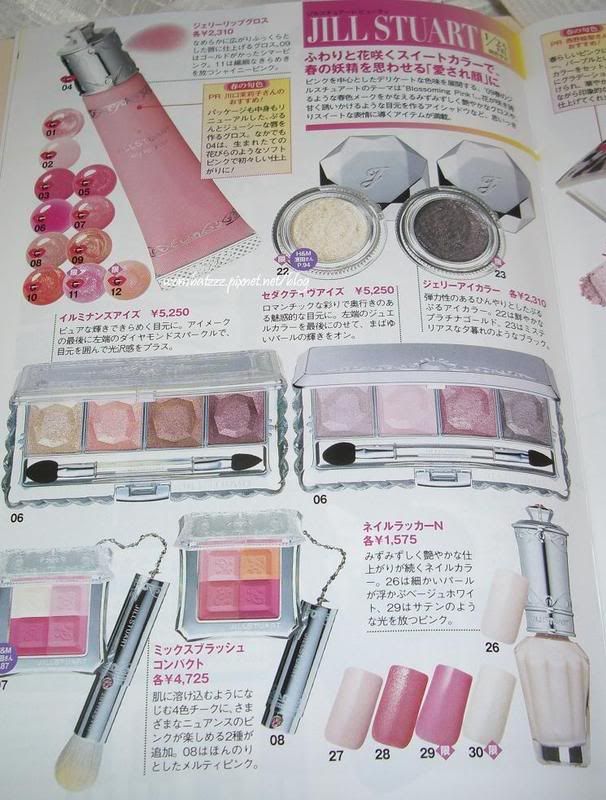 Shiseido Integrate
(Which is a drugstore line)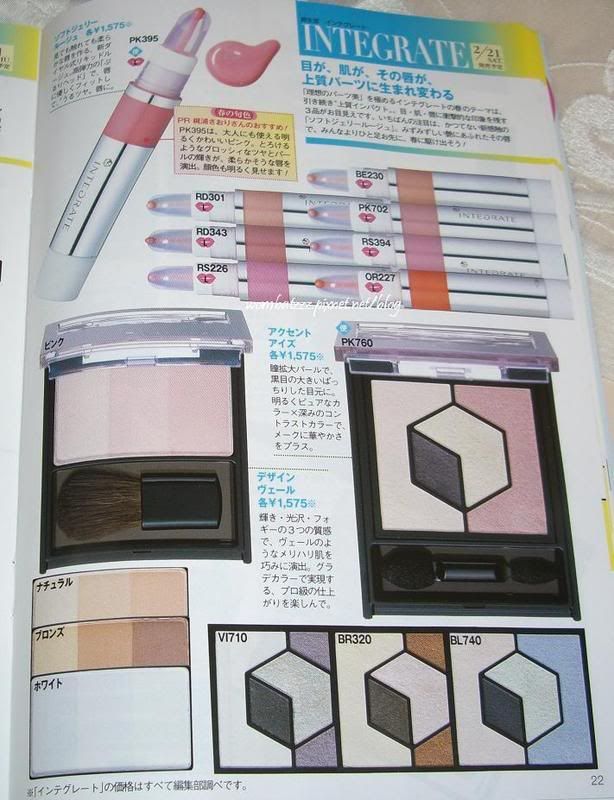 Est and Eprise (both are premium makeup lines)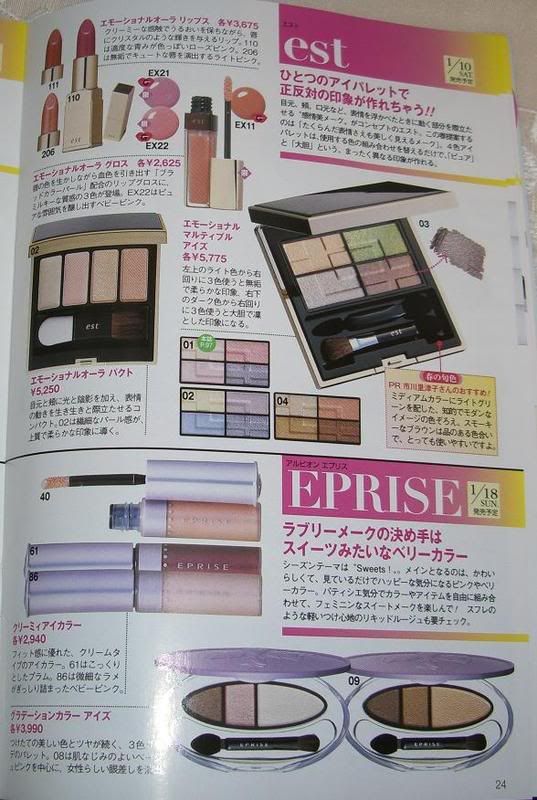 Kanebo Coffret D'or (I dont find the lipstick swatches too helpful though- neither is the main website, however if you like light to medium shades, most colors are really user-friendly and foolproof, other than a few really dark ones in the swatches you might want to check out first before purchasing sight unseen.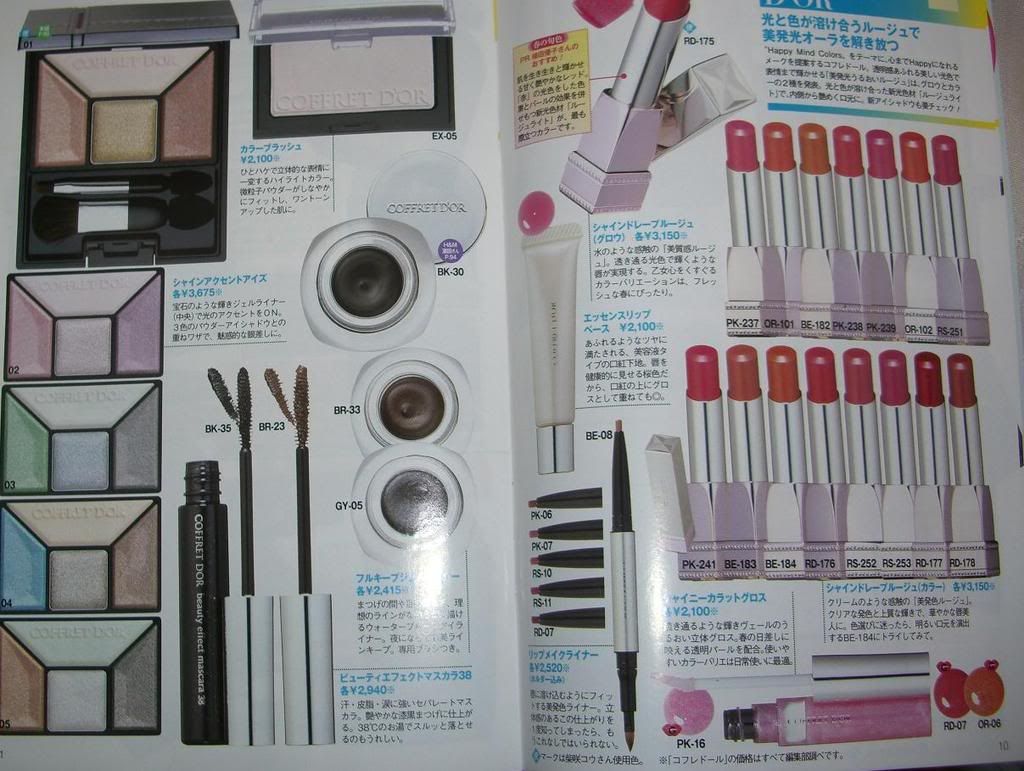 Ayura- again, mostly sold in Japan.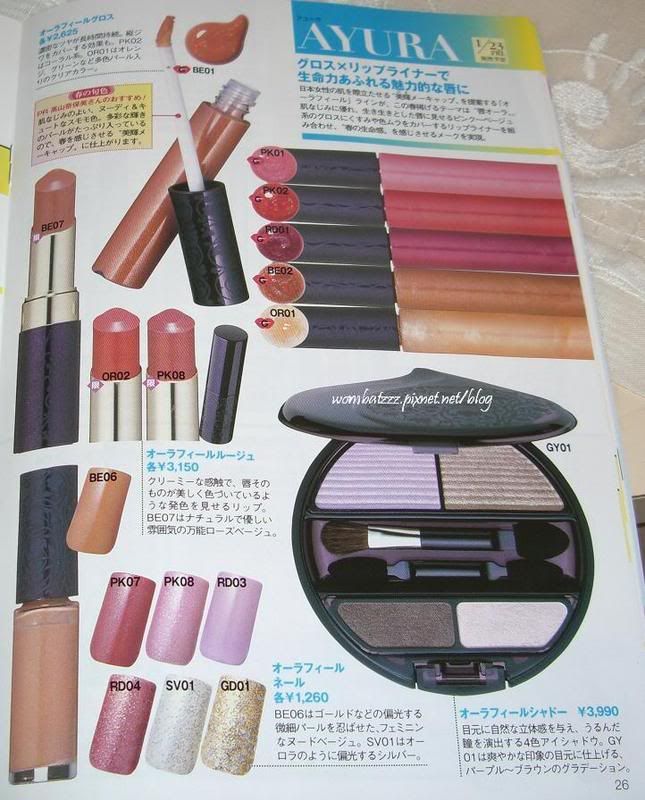 Sofina Aube Couture
Aube Couture is the new line replacing "Aube", it's a bit more pricey, however I think they are also trying to grow into a more mature brand. I'm quite excited about this! purchased a few items already, need to find time to try them.
Giorgio Armani Pink Lights collection- again, super overpriced brand as we all know it...I think the botton left is the 'Blending Cheek Duo' in #4- Rosewood and something..can be seen on official website, RRP60USD (booo)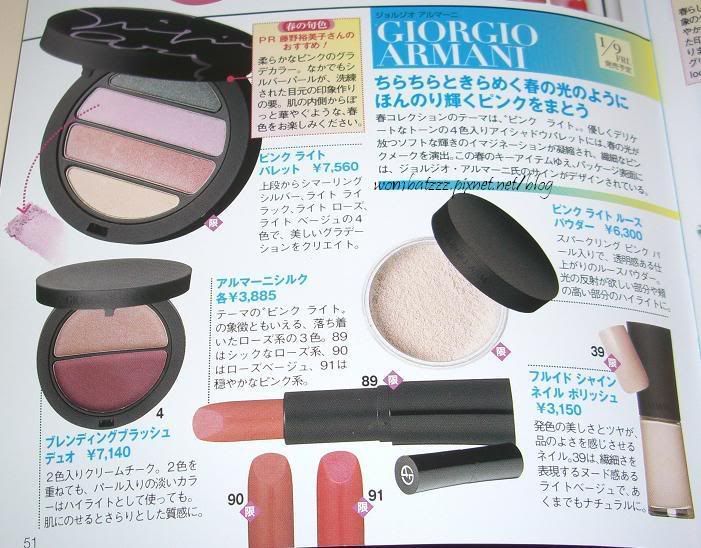 Shiseido International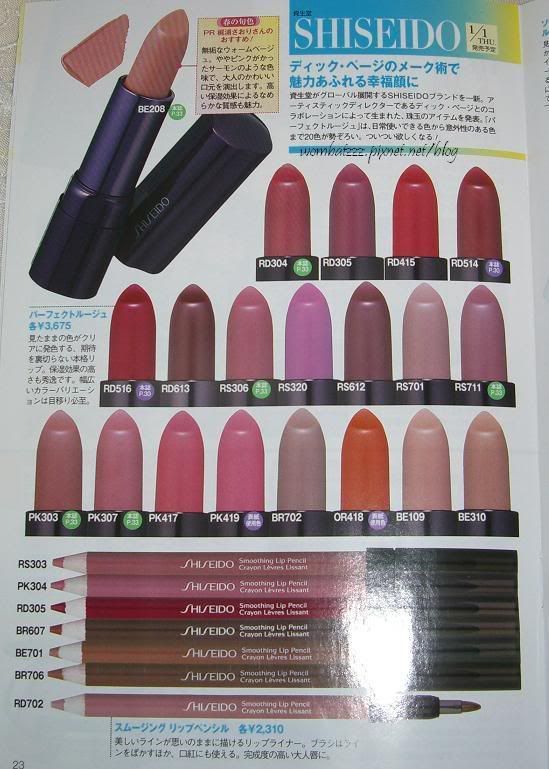 Estee Lauder and Clinique
Very interested in that EL palette, I've seen gorgeous pics elsewhere of it!
Clinique ones features 4 Limited Edition eyeshadows in the blossom print (in previous years they've been releasing blushes in that print).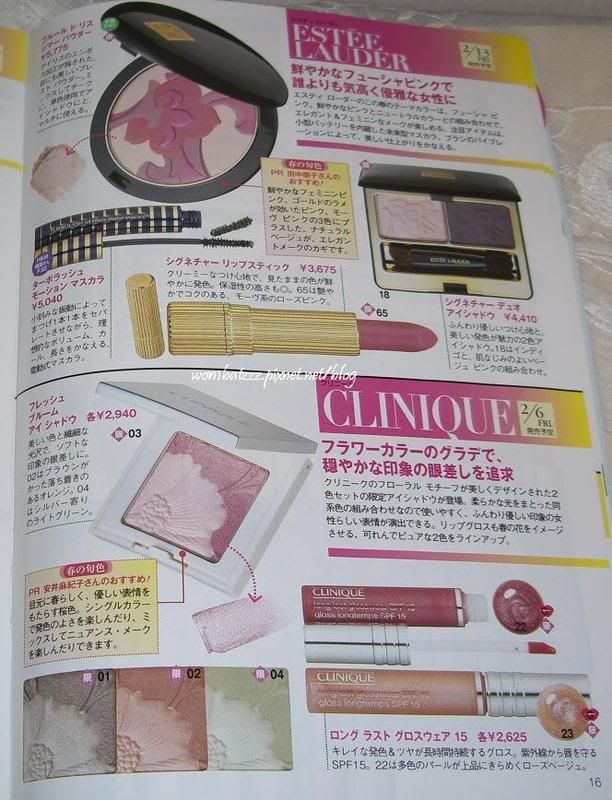 Guerlain Paradis
Guerlain new collection features many single eyeshadows and the Paradis palette #404, unfortunately it's one of those brands that seems to grow in price exponentially...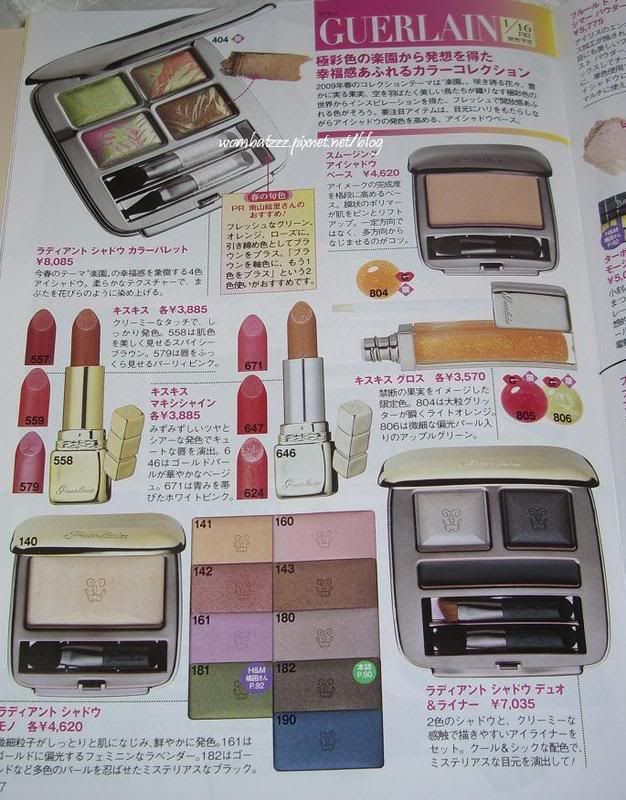 Paul & Joe Ingenue Collection (reviewed in my blog) and the regular line additions - see my earlier posts for reviews on the Ingenue collection.
RMK Translucence
Lunasol- blossom collection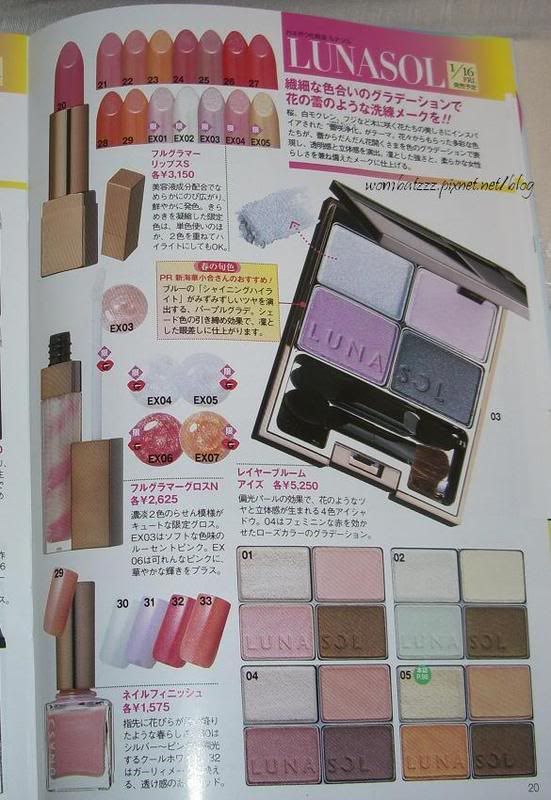 YSL
hrrrm a tad weaker this year, nice colors but not very exciting, just variations of spring shades really..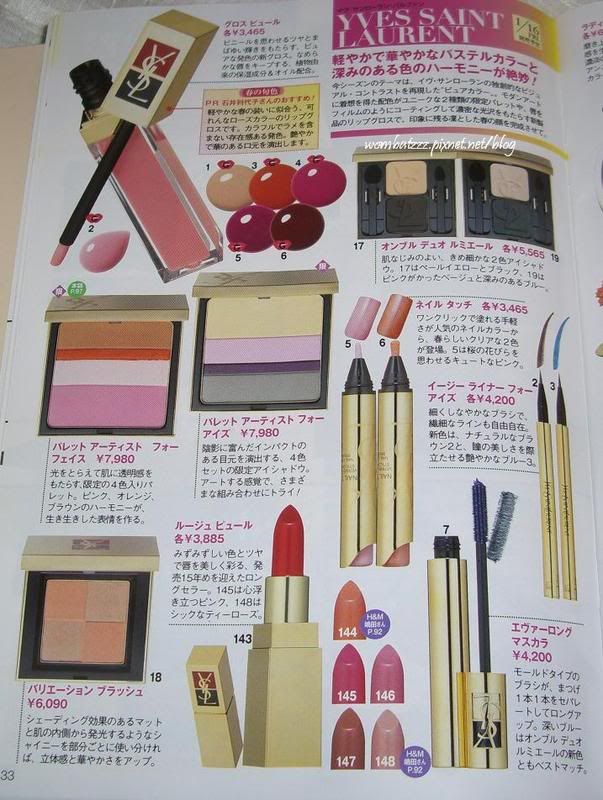 Hope you find these helpful! I compared some actual product pics against my photos above and they match quite reasnoably well.