Finally received the full RMK Spring 2009 Translucence collection, here's the whole lot.
Will gradually release posts on this along with swatches this week.
First pic:
* Top left 2 are "Translucent Cheek & Eyes" which contains dual purpose powders for both cheek and eyes.
Here's a description from RMK- 1,2,3,6 are contouring/blush shades, 4 and 5 are eyeshadow shades. 5 can be used to layer on top of contour/blushes or eyeshadows to add some shimmering hues, a very versatile color.
(pic source: iswii.net)
6 is an iridescent pearl finish, used to create a bright yet translucent texture. Repeated layering with this color should not mess up the overall finish or make it murky, instead it will add translucent lustre to create an airy and lucent spring look.
* Middle top 2 are 'translucent cheek colors' in #01 and #02.
* To the far right are the 5 eyeshadow duos, each featuring an iridescent pink shimmery base shade and a feature color.
* Bottom left are the 3 'Irresistible Lips B' lipsticks in #23, #24 and #25 (from bottom to top).
* Bottom middle lipsticks are the 2 "Irresistible Lips C" lipsticks in #24 (below, and 25 on the top.
* Middle are the two lipglosses in #35 (below) and #36 (top).
(See below for matching color names and prices).
RMK 2009 Spring collection theme is "Translucence", it's all about translucency in the color and texture, predominantly a sweet soft pink theme coupled with the usual flowers and petals a lot of brands go for as Spring collection (this somehow reminds me of the Dior 2008 Spring collection..pinks petals and flowers). RMK is going for a light, airy feel with elegance instead of an overly sweet/cute finish.
(as usual, official pics and product Chinese descriptions sourced from iswii.net )
I rarely purchase the full collection out of any brands for any seasonl releases, however this was an exception since I simply couldn't decide! (and eyeshadow duos seem a lot smaller than usual 4 or 5-color eyeshadow palettes...errrm yeah trying very hard to convince myself here..)
The 3 nailpolishes lost their way in the post, so I'll post the remaining pictures and add to this post later once they arrive.
Lego....ingredient list
好啦...逗著玩...幾款近照生一下大火...燒吧!!
悄悄話...腮紅實在美爆了....故意不貼清楚點的圖啦.. (其實是很晚了明天還要上班啊)..
Creating some massive lemmings here hopefully...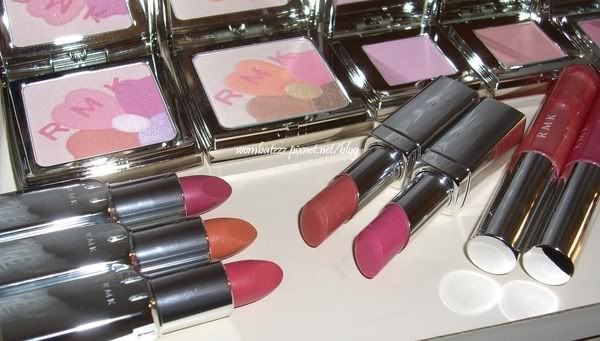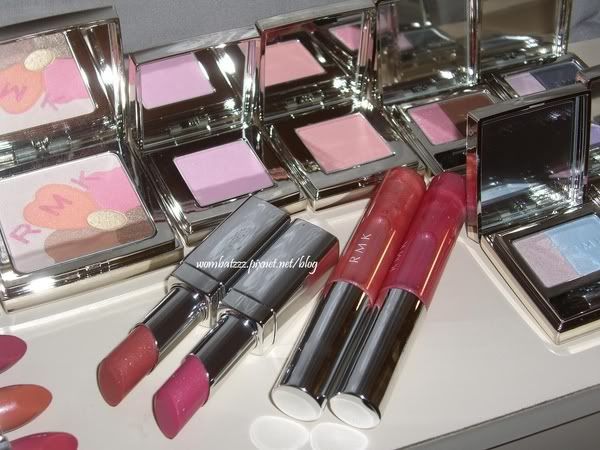 I have added English name and Japanese RRP to images/ text sourced from iswii.net below:
#01 Translucent Coral Pink/ #02 Translucent Coral Gold
RMK Translucent Cheeks & Eyes 7.5g $NT1680 (RRP 5000Yen in Japan)
01/ Translucent Blue 02/ Translucent Green 03/ Translucent Brown
04/ Translucent Purple 05/ Translucent Gray RMK(Eyes) Translucent Eyes 2.3g $NT1050 (RRP 3,500Yen in Japan)
01/ Translucent Pink 02/ Translucent Coral RMK(Cheeks) Translucent Cheeks 2.3g $NT930 (RRP Yen 3,000)
23/ Translucent Orange Pink 24/ Translucent Coral Orange 25/ Translucent Rose Pink RMK Irresistible Lips B 3.5g $NT870 (RRP 3,000 Yen in Japan)
24/ Translucent Shiny Pink 25/ Translucent Shiny Coral Beige RMK Irresistible Lips C 3.8g $NT870 (RRP 3,000 Yen in Japan)
RMKGloss Lips 6.8g $NT650 (RRP 2,200Yen)
107/ Translucent Pink 108/ Translucent Coral 109/ Translucent Rose Pink RMK指 Nail Color N 14ml $NT650 (RRP 2,200 Yen)
RMK boxes look more or less the same even for limited edition collections..