Laneige(SNOW CRYSTAL SHIMMER LIPGLOSS THE SNOW) 2008 Christmas collection- also features two lipglosses in SR201 and NR201 (Beige Snow). This is the promo pic for the lipgloss in SR201 (pink snow).
My pic and comments:

Wow this is certainly a really, really interesting lipgloss. I only got SR201 "Pink Snow" shade, but might go and get the other color too. I have to say I have never seen a finish like this, supposedly it contains 'multi-coating pearl', it's almost like you know how some nailpolishes can reflect the rainbow or selected colors and looks wonderfully complex under different lights, this lipgloss is just like that.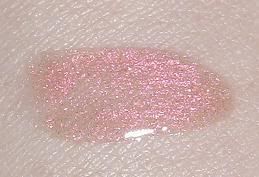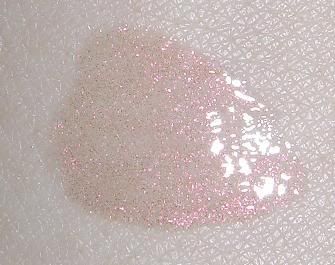 Sponge tip applicator, there's a little groove in the middle to hold the right amount of gloss.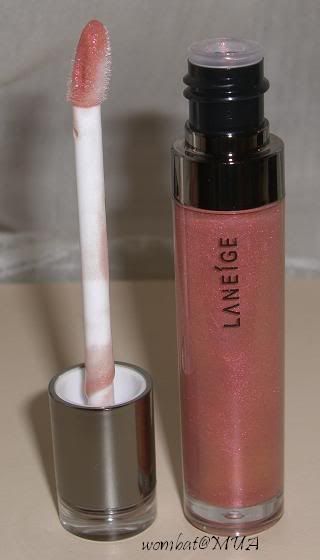 Even in photos you can see what I mean, it's almost like a light pink gel lipgloss infused with millions of soft multi-reflective pearl shimmers in a gorgeous midtone pink and reflecting some pink-gold or peach-gold. On the lips you don't actually see the discernable shimmer, it just makes my lip look like the girl in the ad! (I do have naturally rosy lips though). Lipgloss is lightly grapefruit scented, nice but I do prefer unscented glosses better. Supposedly contains nano-water and snow crystal powder which keeps your lips moisturised (ok...what the heck are snow crystal powder....haha). Overall a good buy.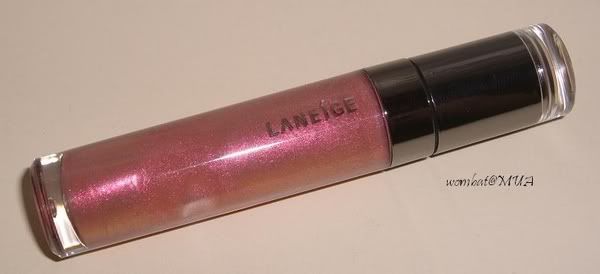 Lastly is the eyeshadow palettes which I didn't get- not sure how I feel about buying a huge compact with varying 3 shades of similar colors, though it looks nice in the promo picture but if you look at her eyeshadow alone, it's not all that special...
Laneige is not exactly cheap if purchased in Taiwan, if you buy directly from Korea, I suppose it works out cheaper than my approx USD pricse listed previously, but I'm still more a Japanese brand person.. Do have to admit the last few Laneige items I've tried are all amazingly gorgeous. Not sure whether this purple palette is the 'Romantic Snow' palette or the 'Glame Snow' palette. (the other palette is blue based I think).