The long awaited Lunasol 10th Anniversary set, due for release in February 20th, 2009. I received this in the mail surprisingly early from a friend in PR- think it's released in Japan in February. Here are the product pics and swatches. (the Chinese version of this post is located
here
: )
RRP9500yen, which is about 90USD. Kit includes a full sized Skin Modelling Eyes in #1 (Beige Beige), full sized Coloring Cheeks #1 Reddish Beige, Glamour Gloss N EX08, Noble Shade Liner EX01, High Stylise Mascara EL #1.
Comes in a classy glossy patent deep Lunasol signature brown pouch with sturdy zippers. Unfortunately the palette is housed in a pre-sized plastic tray, I don't see how you can put in your own refills, maybe besides the blush pan- but it doesnt really seem to be designed refilled since I'm not aware of Lunasol selling refillable eyeshadows or smaller than full sized version eyeliners or mascara.
There is a plastic cover (not fixed) over the eyeshadow and blush and brushes to prevent powder fall outs and to keep the brushes in place. Pouch contains its own mirror and can definitely be used as a separate cosmetic pouch later on if you take the full tray out, it's semi hard lined on the base so the palette doesn't get squashed.
You get 2 eyeshadow dual-end applicator, (2 normal sponge tips, 1 pointed sponge tip and 1 brush tip), in addition to a small blush brush (quite thin in my opinion, probably designed so you can use the cheek colors individually). It's not exactly really flat but at the same time not a round applicator either. The brush head is almost a flat dome, longer bristles in the centre. It applies the blush just fine, bristles are soft, however it's very hard to blend with this brush- it picks up surprisingly lots of powder.
Coloring Cheeks #01 Reddish Beige : (blush from part of the regular line)
Left: a clear reddish pink coral, with almost no visible shimmers, but it's a nice glowy finish. I like the pigmentation of this blush, a lot of Japanese blushes tend to be on the sheerer side, but this is a unique shade and well pigmented (yet maintains that tralucent glowy finish and no muddiness). Finely milled.
Centre: lightly shimmery mid-tone red based pink. Buttery texture, as this is not a dark shade like the left color, it has less color payoff.
Right: a shimmery pinkish champagne beige. Same buttery texture and pigmentation as the middle shade. This shade is more a highlighter shade than blush.
Mixed together, you get a mid toned reddish pink with light shimmers that's very wearable. I'd say there's that hint of coral red or pink with it, but I don't detect obvious orange tones. The shimmers do not accentuate pores on my skin, simply makes it look glowy on my skin, under direct sunlight and close inspection I might see a tad of shimmers on my cheeks, but it's subtle.
Full Glamour Gloss N - EX08 Beige Coral
The lipgloss is a light shimmery milky pink coral (still with decent pink pigment base), it's not pure pink, there's some milky-ness to the pink, looks almost like a pinky apricot in the tube but swatch definitely shows more pink (I suppose beige light pink coral is a good description too). Infused with predominantly pink shimmers and some iridescence that flashes rainbow.
The shimmers are not glittery, but definitely has its noticeability (I do like it though, definitely office friendly though not sure I'd show up to client meetings with this gloss- then again I never wear lipglosses to clients!). It's very nice and totally wearable for most complexions, however I'm not sure it is that special (a lot of Japanese brands probably do this nice pink shade a million times and over). This is a limited edition exclusive color to this palette.
Bare lips with lipbalm:
With lipgloss in different lights:
Skin Modelling Eyes in #01 (Beige Beige): (part of the regular line from 2007 Summer collection, official website pic and suggested application below). (the theme was 'beige' collection), this set includes #01 Beige Beige, it is not a new exclusive color but I think this shade is discontinued in Taiwan at least.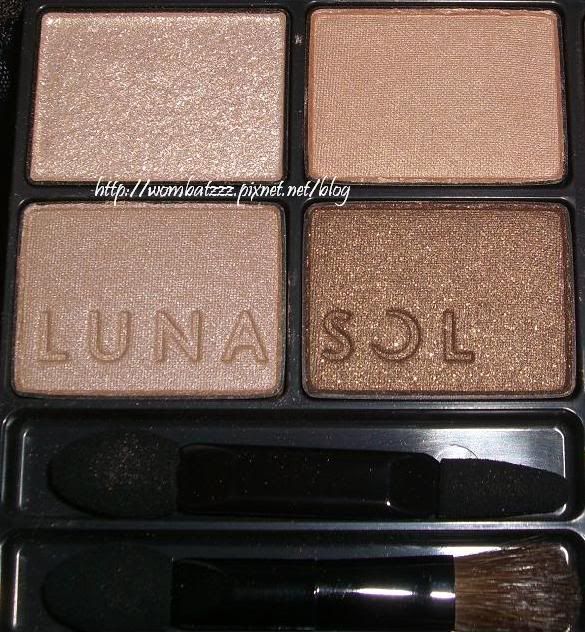 Top left:
Shimmery champagne beige, it's a light beige, but not as pale as I'd describe as vanilla or creme. It's very neutral toned. It has an amazing even shimmer, most shimmery out of the quad, with soft as butter texture, if you apply it densely it will look like a champagne beige fine metallic shimmer from a distance. It reminds me of those classic draped champagne silk dresses you see in old films...silky and mesmerizingly sensual. My favorite shade out of the lot. (Add: However, I wore this shade today, unfortunately while it can apply densely on the back of my hand, on my eyes (on top of foundation/concealer- no primer), it blends into a nice wash- but prone to some fall out, I suspect using an eyeshadow primer or cream eyeshadow base would fix this. After 8 hours of makeup, Mr Wombat did comment on "how come you got glitter on your face", when I checked, yes there were random sparse fallouts on my cheek, and a fair bit seem to have fallen off so I had random shimmers left on my eyes...)
Top right: A glowy beige, 1 shade darker than top left color, but 1 shade darker then bottom left. It's a velvety shimmer, not as shimmery as the first one and definitely not 'sparkly' as such compared to other Lunasol releases (e.g. the coral series). Unfortunately on my slightly pigmented lids (almost 1 or 2 shades darker than my face), it's like skin color! Bottom left: lightly shimmery beige wheat, the difference between this color and top right is quite subtle, if anything this is more brown beige where as the top right shade is ever slightly more peach neutral beige. 1 shade darker than top left. It has the same kind of velvety glowy shimmer as the top right shade. Instead of really calling the finish shimmery I'd call it glowy. On my eyes, unfortunately it's blends out like a natural eyesocket shadow of some sort. I found the way to wear this is actually using this as base all over lid, then apply the top right shade patted on the middle of the eye, then wear the liquid eyeliner from this palette. Bottom right: silky chocolate brown, not extremely dark, not reddish or yellow, just straight chocolate brown enough to be a liner color or crease shade. I think a lot of people would use a separate liner to accentuate a heavier line though (this palette comes with that perfect liner!). Similar glowiness and shimmer as the top right and bottom left shades. Unfortunately while this is a nice brown, it's not too special.
Wore this today and unfortuantely, it's not really dark enough applied with a normal eyeshadow brush (didn't use the sponge tip applicator), and perhaps I need to apply a darker liner to make the look more striking.
Basically as the name suggests, it's a variation of beiges (so I guess that explains why there are 2 quite similar shades of beiges with similar texture and just 1 shade off from each other). It's a great neutral quad to pair with any eyeshadow colors or on its own for a clean soft look. However I know for those with 10000001 earthy toned palettes, there might be less happy purchasers. (Hey the pouch is really quite nice though! I wish it was a tad bigger). The eyeshadow will definitely look nicer on those with paler eyelids or a bit darker lids to show sufficient color contrast, it sort of looked my natural eye skin color! merghh!
Noble Shade Liner EX01 Deep Brown and High Stylise Mascara EL #01 Black
The eyeliner is one of the biggest surprises in the set (given that the blush and eyeshadow, although nice, they were already released as part of the permanent collections before, the lipgloss- lovely but can definitely be found in many other cosmetic lines). I'm not sure whether it was released previously in other sets, but usually EX-prefix denotes exclusive/limited edition releases.
It's a dark, very pigmented chocolate brown infused with finely-milled shimmers that flashes green, gold and pink iridescence. It's so subtle that I had to blend the colors out to see the shimmers. It's quick drying, does not rub off that easily, the shimmers stay put after it dries (I tried to push around to see if the shimmers would fall out but it's still on my arm despite on the rubbing).
You can see how full the color is:
Blended out:
A quick swatch of liner, I'm only wearing the top left and bottom left shades of the eyeshadow palette, you can see it pretty much blends into the skin color, and camera flash washes away any colors of shimmers.
While the set contains a smaller sized mascara and eyeliner, they are not that small as to affect their usability. The eyeliner brush is as good as full sized brushes, same with the mascara. The mascara is an extremely nice separating mascara, no clumps, applies very smoothly and evenly, has a standard brush head to the smaller side (no grooves or curves) compared to Lancome or Dior mascara brushes.
It's meant to be a more lengthening and defining mascara and that's what it does. Decent and basic- reminds me of Shu Uemura mascara basic. Holds curls ok, and relatively smudgeproof, light shadow after 8 hrs of wear. I don't think it's possible to build some serious length or much volume with this though.
What the container looks like:
****** Overall, the main problems I had with this set: - I do think if Lunasol was going to release an LE 10th anniversary set, they should've came out with some really unique colors rather than having two main palettes containing items from their regular line). Anyway, given that everything is such high quality in this palette, thumbs up for this! Not sure whether I'd be paying inflated prices above RRP for this item though.
- Eyeshadow can be a bit too average for most people. It's a nice basic neutral, but need a few darker or different shades.
- The plastic cover should be fixed- like a flip up cover or even a plastic film. I'm totally struggling with using it as if it was a portable palette- and accidentally dinged a bit chunk of the blush with my nail when the cover slipped =(
- There is some powder fall out that will get stuck inbewteen the palette when using the eyeshadow or blush. Not a huge issue if you keep the plastic cover in place, but it's annoying when the powders from eyeshadow mixes with the blush. Sorry for the lack of posts for two weeks, it was my birthday earlier so got caught up with celebrations =)
Given Lunasol eyeshadow quads cost $50USD alone elsewhere online and blush refills hefty as well, I guess it's not too much of a discount but if you happen to like the shades, this is a good travel palette and great set to have.