Didn't realise I was away from the blog for so long! well things have been busy and I was also on a few weeks holiday so now I'm back again.
Quick review of two masks I tried recently, firstly it's a sheet mask from Fancl called the "U Zone Firm Up Mask".
(Click to enlarge picture below)
The mask is meant to be limited edition, and with Fancl's signature HTC collagen complex and it's aimed at overall firming in the "U" shaped portion of lower face. i.e. to remove the double chin or bloated look.
It has a really interesting shape like below: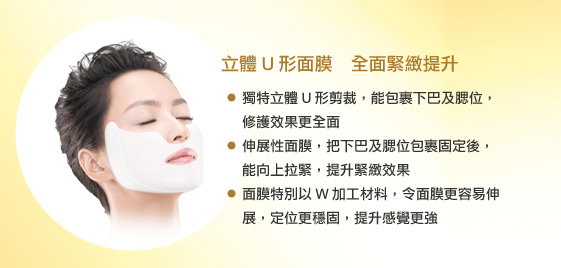 The masks come in box of 3 separate satchels. Retails about $130HKD in HK (which is like 17USD).
Here it is on me- the picture is so small since I think it looks so silly. But you can see the mask is a typical sheet mask material. It's not particularly damp actually, unlike many other brands of mask where you get leftover serum to apply to rest of your body or arms if you like, the mask is only moist enough for that 20 minutes on your face and does not drip.
I think in terms of the face hugging, it does what it says due to the design of the mask. It hugs the chin and cheek area really well. After application I can see a (temporary) firmness and extra supple looking skin (which can be achieved with most moisturising masks). However there is no real visible long term effect. This is clearly one of those feel good products, just use it as a normal moisturising mask I suppose. Not on my repurchase list unless I can find it on sale or something.
Next one is Bioderma Sensibio Mask. I truly love the Bioderma micellar water as a makeup remover. So I also grabbed a few other items. The Sensibio line features red prints on white tube packaging, and it's targeted at sensitive skin.
Just a typical flip up squeeze tube.
The instructions say spread a light layer on cleansed skin, wait 10 minutes then wipe off or rinse off. It has a light creamy consistency that is non oily.
However, the overall effect was pretty bland. I think I didn't even finish the whole tube before it actually expired so I had to throw it out. While it's comfortable to use, and convenient for e.g. applying it to cleansed skin before shower, then hop in the shower , wash your hair , then rinse off this mask at last step and you get a bit of extra boost of moisture, it is very weak compared to most moisturising masks out there.
It was non-irritating on my sensitive skin as advertised, but I did not feel it moisturised very much compared to any hyaluronic moisturizer masks or serums out there. Definitely a pass for me.